The last week in October 2020 the International Institute of Forecasters held it's 40th International Symposium on Forecasting. Henrik Madsen, Project Manager at CITIES and Professor at DTU Compute gave a keynote speech: Forecasting for the Green Transition. His talk is now available on YouTube – click on the play icon below or use the link below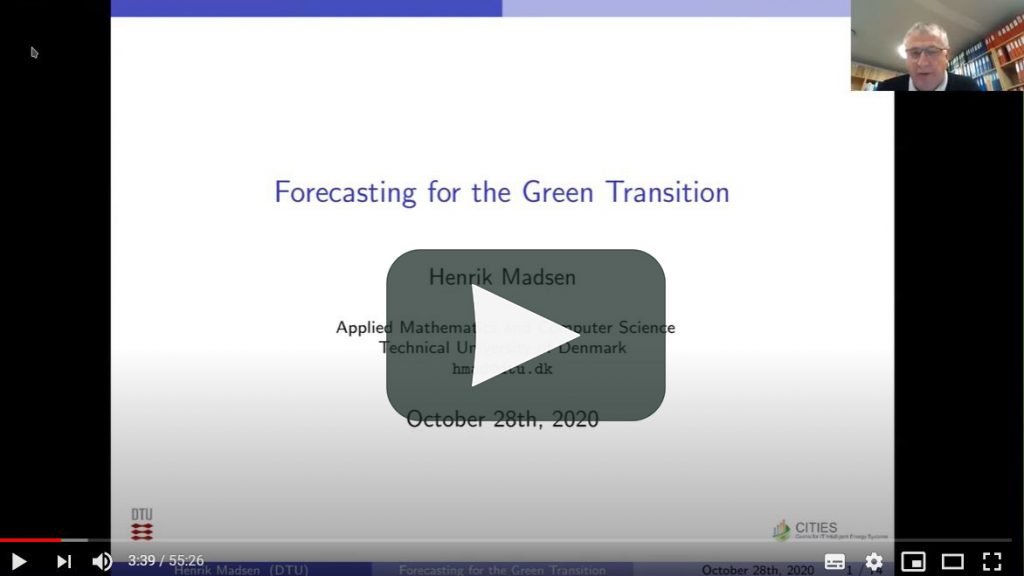 https://www.youtube.com/watch?v=rVwx8FVSxUA
In his talk, Henrik Madsen describes how the green transition implies that the power system will undergo a fundamental change from a system where the power production follows demand to a system where the demand follows the renewable power production. This implies that energy forecasting will play a central role in the green transition.
Today energy load forecasting is a rather easy task, but in the future demand response methodologies will become widely used and consequently demand and prices will become more volatile and less predictable. This talk will demonstrate that by taking account of auto- and cross-covariances when reconciling forecasts, the accuracy can be significantly improved.
In Henrik Madsen's talk, he also presents state-of-the-art methodologies for renewable energy forecasting. In particular, he and his colleges' research is focused on methods for multivariate probabilistic forecasting of load and renewable power generation.
The research also shows that integrated forecasting across domains (wind, solar, load, prices, …) will become essential, and replace more silo-oriented and independent tools for individual areas like wind power. Therefore his talk demonstrates that full multivariate probabilistic forecasts will become essential to obtain reliability and profitability in the operation of future low-carbon energy systems.