WP1 – Energy services and demand
Objective: Characterize and model energy services and demand in cities, and their geographical and temporal variations.
DTU Management
WP Leader: Xiufeng Liu
xiuli@dtu.dk
WP3 – Intelligent energy system integration
Objective: Optimise the interactions and synergies between individual system components, amongst buildings.
DTU Byg
WP Leader : Carsten Rode
car@byg.dtu.dk
WP5 – Forecasting and control
Objective: Develop tools for short term (probabilistic) forecasting and control of integrated energy systems with flexible geographic scope.
DTU Compute
WP Leader: John Bagterp
jbjo@dtu.dk
WP7 – Decision making and support systems
Objective: Methods and tools to assist private and public agents in making "good" decisions to fully benefit from Smart Cities and guarantee proper city development.
DTU Compute 
WP Leader: Daniela Guericke
dngk@dtu.dk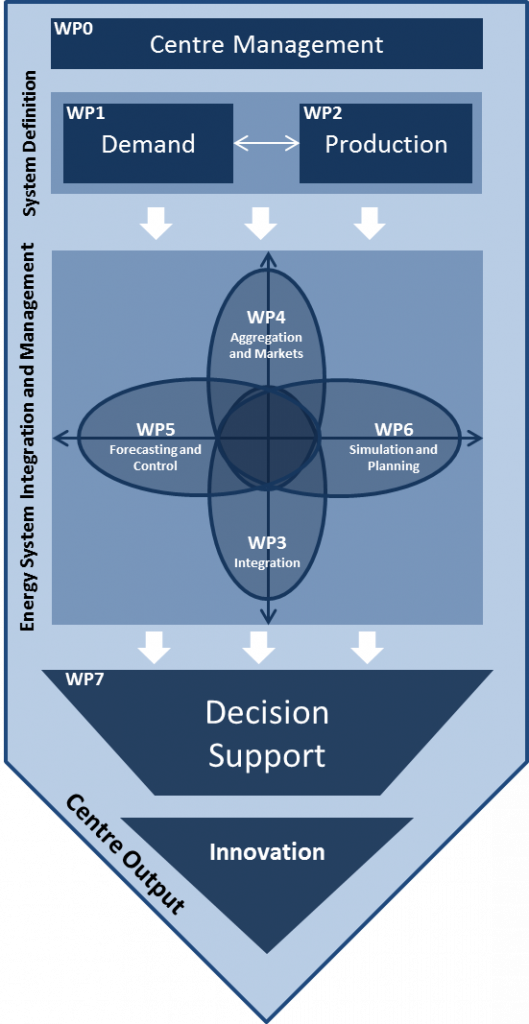 WP2 – Energy production, transmission, storage and conversion
Objective: Characterize energy supply, transmission, storage and conversion possibilities and identify opportunities for increased efficiency and flexibility.
DTU Energy
WP Contact: Dominik Franjo Dominkovic
dodo@dtu.dk
WP4 – Intelligent aggregation and markets
Objective: Develop aggregate models and market structures for city-level systems (and subsystems).
DTU CCE
WP Leader: Pierre Pinson
ppin@elektro.dtu.dk
WP6 – Simulation and planning -[Long Term/Planning]
Objective: Develop long term simulation platform for system planning. Focus on longer term energy planning scenarios and methodologies.
AAU Planning
WP Leader: Karl Sperling
karl@plan.aau.dk