Through CITIES, district heating companies will continue to work with the ideas based on concrete challenges and thoughts of increased digitalisation.
Danish:
Fjernvarme-workshop giver tre ideer til brug af målinger og data
Gennem CITIES vil fjernevarmeselskaber arbejde videre med ideer, der tager afsat i konkrete udfordringer og tanker om øget digitalisering.
—
En lille flok fjernvarmefolk fra Fjernvarme Fyn, Hvide Sande Fjernvarme, HOFOR, Aarhus Maskinmesterskole og Grøn Energi/Dansk Fjernvarme stak for nyligt hovederne sammen for at udtænke forslag til at skabe værdi i fjernvarmesystemerne ved hjælp af målinger og data.
Forslagene afspejlede både kvantitative løsninger, som kan spare energi og kvalitative løsninger, der fokuserer på at uddanne fremtidens værdikæde til at bruge databaserede input.
Fjernvarmefolkenes hverdag er vidt forskellig. Alligevel fandt de frem til tre konkrete ideer, som nu vil blive konkretiseret for at se om ét eller flere af dem kan udføres inden for rammerne af CITIES-projektet.
Ideerne kredser om, hvordan data kan bruges ved indregulering af anlæg, hvordan data kan kobles sammen med andre data, og endelig hvordan man let kan overvåge data live.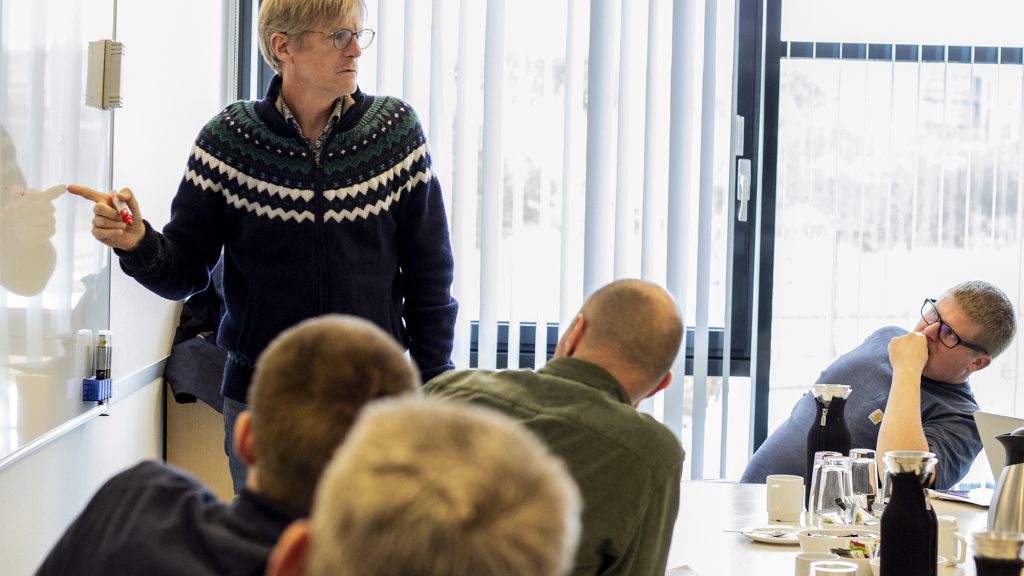 Data bruges ikke optimalt i dag
Fjernvarmeselskaberne har naturligvis gang i digitaliseringen, men de bruger hverken løsningerne eller data optimalt, erkendte fjernvarmefolkene.
Samtidig bruges data på forskellige måder rundt om i landet, fordi behovene ofte er vidt forskellige om man er et stort fjernvarmeselskab eller et mindre. Samtidig er der en tradition for nogle steder, at selve driften mest køres via sund fornuft, regneark og erfaring.
Netop derfor var workshoppen i Fjernvarmens Hus tænkt som helt uformel, og der var gode og livlige diskussioner, siger chefanalytiker i Grøn Energi, Nina Detlefsen, der var arrangør af workshoppen:
"Fordelen ved at holde en workshop med få deltagere, som virkelig er interesseret i emnet er, at disse deltagere får plads til at fortælle om deres udfordringer. Når projekter og ideer kommer med afsæt i deres egne meget jordnære problemer, tager deltagerne typiske mere ejerskab efterfølgende."
"Netop dette ejerskab for opgaverne er vigtig, for at de også vil prioritere ressourcer, og at der faktisk sker noget fysisk på værket," uddyber hun.
Når man har lagt sig fast på, hvilke af de tre ideer, som man går videre med, vil projekterne være åbne for alle CITIES-partnerne.
---