Monday, June 3rd DTU's project CITIES and our Norwegian colleges from NTNU and SINTEF (project FME ZEN) had a closed workshop at DTU Lyngby Campus, Copenhagen to make a coordinated effort in applications, we expect to increase the likelihood for funding.
The two large national projects – CITIES and FME ZEN – have similarly synergies.
The participants went home with useful new knowledge. And the collaboration continues.
Read more in the Danish article below.
Smart city-forskere fra DTU og NTNU øger sammen jagten på flere EU-projekter
CITIES-projektet var i sidste uge vært for en workshop med forskere fra Norges Tekniske og Naturvidenskabelige Universitet, NTNU, og forskningsinstitutionen SINTEF.
Forskere fra to store nationale forskningsprojekter inden for energieffektiviseringer og digitalisering i Norge og Danmark var i sidste uge samlet i Kongens Lyngby til workshop. Målet var at finde ud af, hvor forskerne med fordel kan samarbejde yderligere, end de i forvejen gør for sammen at byde på flere EU-projekter.
For få uger siden fik projektet Syn.ikia – Sustainable Plus Energy Neighbourhoods – støtte fra EU, og faktisk er både DTU og NTNU med i projektet.
Og tiden på DTU var godt givet ud, vurderer NTNU's Arild Gustavsen, professor og centerdirektør på Research Centre on Zero Emission Neighbourhoods in Smart Cities og Henrik Madsen, centerleder og professor på CITIES.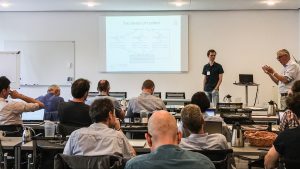 "Vi har indledningsvist fundet nogle mulige områder, hvor vi sammen kan søge EU eller evt. nationale midler. Men vi er jo også netop lykkedes med det store EU H2020-projekt, Syn.ikea, og det er takket være den store indsats fra NTNU. For ansøgningen var efter min mening super god og gennemarbejdet. Dette nye projekt passer rigtig godt ind i vores fælles interesser. Vi vil nu overveje, hvilke calls – og ideer – vi skal arbejde med i den kommende tid," siger Henrik Madsen.
Fortsætter det tættere samarbejde
Projekterne, det norske FME ZEN, som NTNU og forskningsinstitutionen SINTEF i Trondheim står i spidsen for, og det danske CITIES, som ledes fra DTU Compute, minder om hinanden.
Man arbejder med at skabe integrerede energisystemer på alle niveauer fra bygninger, bydele til byer ved hjælp af digitalisering og kunstig intelligens.
NTNU har selv et kontor i Bruxelles for at være tæt på beslutningstagerne, og chefen, Massimo Busuoli, var også kommet til DTU for især at fortælle om EU's kommende forskningsprogram, når det nuværende Horizon 2020-udløber.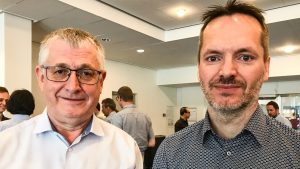 På workshoppen hørte forskerne også om hinandens forskningsprojekter og arbejdede i grupper videre på at se muligheder for fremtidigt samarbejde. Når man kender hinandens styrker, teknologier og tanker endnu bedre, er det meget lettere at komplementere hinanden og sammen lægge ansøgninger ind til EU's store forskningspuljer.
"Syn.kia vil gøre forskningssamarbejdet tættere. Vi søger også om et nyt EU-projekt, hvor både forskere fra NTNU og DTU er med. Alle forskerne, som var med på workshoppen syntes, at det var givende. Og vi vil følge op med et nyt møde om cirka et års tid," siger Arild Gustavsen.
NTNU og DTU
DTU samarbejder også med NTNU gennem Nordic Five Tech, der er en strategisk alliance mellem de fem ledende tekniske universiteter i Norden; Chalmers i Göteborg, KTH i Stockholm, NTNU i Trondheim, Aalto Universitetet i Helsinki og DTU.
Nordic Five Techs alliancen blev etableret i 2006 for at skabe en fælles indgang for internationale studerende til ingeniørstudier i Norden og at skabe et fælles nordisk campus for alliancens studerende, ansatte og forskere.