The research in CITIES has conducted projects on smart-building solutions related to the integration of energy systems.
Smart buildings will in the future not only be sensitive to the actual conditions such as weather and the presence of occupants, but they will also reflect on the connecting energy and water grids or price signals.
This way smart buildings will be one of the many components that enable the city systems to optimize and enable a large share of renewable energy.
To enable buildings to interact optimally with the surroundings, data must be interexchange and IT systems have to compute relevant control settings in real-time and communicate to the control system of the buildings.
In the CITIES project, we have shown how to interexchange and use data and how IT systems have to compute relevant control settings in real-time and communicate to the control system of the buildings.
Another important result from CITIES is that we need to use data-driven methods to look into buildings to see how they perform before we decide where to do energy renovation. – See the recommendations and videos below.
The CITIES partners have defined seven recommendations for this topic:
Designed solutions must respect consumer preferences, e.g., in relation to automatic self-acting solutions; Smart controllers should offer users to select preferences regarding energy efficiency, CO2 efficiency and cost efficiency; The design of ICT (information and communications technology) solutions must be robust; Buildings should be prepared for energy flexible operation; A data-driven alternative to the Smart Readiness Indicator for describing the flexibility must be considered; Data-driven approaches to energy labelling and energy performance characterization (energy signature) must be adapted; Smart buildings shall preferably adopt forecasting.
Learn more in the list below and see the videos.
Flexibility / virtual storage – a keyword
Flexibility / virtual storage is a keyword to green transition in a cheap and effective way and in planning and operation.
To obtain the Danish climate goals for 2030 and 2050 we need to focus on digitalization and sector coupling. Digitization is the link that enables the coupling of energy sources with real-time matching of energy demands and production through data intelligence and IoT devices in integrated energy systems.

In the CITIEs project, we have investigated how much flexibility can help us achieve climate goals.
We note these characteristics for flexibility:
Flexibility (or virtual storage) characteristics:
Wastewater systems can provide storage 0.2-6 hours ahead
Supermarket refrigeration can provide storage 0.5-2 hours ahead
Buildings thermal capacity can provide storage up to, say, 2-10 hours ahead
Buildings with local water storage can provide storage up to, say, 2-18 hours ahead
District heating/cooling systems can provide storage up to 1-3 days ahead
DH systems can provide seasonal/long term storage solutions
Gas systems can provide seasonal/long term storage solutions
Using SDEs to understand energy efficiency in buildings
Jaume Palmer Real is a PhD student at DTU COMPUTE – Department of Applied Mathematics and Computer Science – at the Technical University of Denmark. In his YouTube-video, he tells about his PhD project: Stochastic Differential Equations (SDE) for Modeling Energy Systems Integration – and about how to use SDEs to understand energy efficiency in buildings.
Data-driven Methods to Characterize the Dynamic of Buildings
At CITIES final conference on November 9, 2020, Carsten Rode, Professor at DTU Byg and Work Package Manager on CITIES & Christoffer Rasmussen, PhD at DTU Compute explained how they have developed a concept whereby they use mathematics/statistics to analyze data collected with high frequency from sensors in the buildings to optimize energy efficiency and to use the buildings as energy flexible storage.
Smart Cooling - Singapore, Grindsted and the future
At CITIES final conference November 9, 2020 postdoc Dominik Franjo Dominkovic talked about the research we have done in Singapore to utilized excess waste heat via absorption shillers to generate cold and analyzed the potential of widely adopted district cooling in tropical regions, with steady cooling demand. He has used the same methods on a demo case in Grindsted for cooling meeting rooms and the research continues now in 'Cool-Data' – with data centres.
Characterisation and Integration of Energy Flexibility
Flexibility in electricity consumption will be a keyword for the green transition, in the energy system of the future based on solar and wind. Rune Grønborg Junker from DTU Compute talks about how to unlocking consumers flexibility potential. 
Webinar: Accelerating the green transition using AI and energy system integration
The green transition calls for the next level of digitization and a need for new tailored methods, i.e. energy system-oriented AI, Big Data Analytics, Grey-Box Modelling, Cloud-Fog-Edge Computing, System-of-Systems, IoT, Resilience, User-involvement, and Data-sharing principles. This special session provides a number of talks highlighting the status and challenges in achieving an efficient implementation of the future low-carbon society. 
CITIES and what next, Peter Rathje, CEO ProjectZero
Seven years of research in CITIES has generated a lot of new knowledge to use in cities to make them energy-smart. Now it is time to use the knowhow to reach the green transition with 70 pct reduction of climate gasses, Peter Rathje, CEO at ProjectZero – Sønderborg, Denmark, says. One extremely important way is to use triple-helix cooperation's (university, industry, and government) to help cities and society overcome complexity. 
The low-carbon transition: Challenges, status and possibilities
From CITIES – Centre for IT-Intelligent Energy Systems – final conference November 9, 2020: KEYNOTE from Olivier Corradi, CEO at Tomorrow: If we don't do anything about the CO2-emission, we have nowadays, we will need a Corona lockdown period all over the world every year as we saw in spring 2020 to keep the temperature rise at 2 degrees as in the Paris Agreement. So we need new ways of doing things – hereunder computing the demand and production in relation to when the energy comes from renewable sources, Olivier says.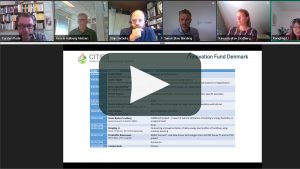 Contemporary digital and data-driven methods are key to optimize the operation of buildings and district energy systems such that use of fossil fuels can be minimized without compromising on comfort and functionality of the built environment. The CITIES workshop gives an overview of potentials and state-of-the-art technologies in the field.