Although CITIES ends by the end of 2020 after seven years of research, CITIES' research, findings and thoughts continue through other projects based on research in CITIES or inspired by CITIES. This applies the following projects.
Center Denmark – digital hub for smart energy systems


CITIES' work with cloud platforms has been a kind of preparatory work for the establishment of Center Denmark in 2018, a new digital hub for smart energy systems.
Center Denmark will develop the best-in-class nationwide data platform for energy related data, that combined with forefront artificial intelligence identifies flexibilities on the demand side across the energy systems. Development of decision tools with real-time capabilities will enable their partners to develop and test new innovative business models and commercial services targeting smart grid features for industrial sector and private households.
The hub will – as an incubator environment – connect several Danish living labs in a data lake for scaling and establish new scalable micro-grid test and demonstration facilities.
The data lake contains a variety of energy-related data that are mainly collected from the living labs in the project, but also from other sources such as BBR (The Danish Buildings and Homes Register) and DMI (Danish Meteorological Institute).
Center Denmark will make the data platform a foundation for an international framework for research, representative and scalable tests and demonstrations as well as education.
Center Denmark has a close connection to all four technical universities in Denmark and a number of key players for a smart green transition.
Center Denmark is located in Kolding in the immediate vicinity of key national players in the energy field, such as Energinet, Ørsted, EWII, TREFOR and Dansk Fjernvarme. This location will help to ensure that Center Denmark becomes the hub of the new Energy Silicon Valley in the Triangle area between Vejle, Fredericia and Kolding. Center Denmark has 42 partners. The center is funded by Innovation Fund Denmark.
In 2020 The European Commission has decided to certify Center Denmark as a "Digital Innovation Hub".
EU defines Digital Innovation Hubs as one-stop-shops that help companies to become more competitive with regard to their business/production processes, products or services using digital technologies.
FED – Flexible Energy Denmark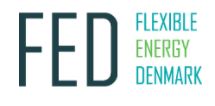 FED is a Danish digitization project aimed at turning Danish power consumption flexible to enable utilization of excess power from wind turbines and solar cells. FED attempts to balance energy consumption with the production of sustainable green energy.
By balancing the energy system FED provides cost savings through decreased need for new energy investments. By balancing FED provides a reduction of CO2 emissions due to full utilization of the sustainable green energy available.
FED utilizes the latest digital technologies for reducing climate impact.
The project brings together Denmark's foremost researchers, organizations, supply companies, software companies and a number of living labs that provide data for the project. The data is sent to the digital hub for smart energy systems Center Denmark's data lake.
A living lab is a geographical area that is experiencing a challenge that the FED project might investigate. FED's living labs gather data on building structures, constructional systems (CTS and others) and operational systems. Living labs send data from various sensors and monitoring systems into the data lake at Center Denmark. Some living labs have been equipped with extra sensor systems and actuators for control. All energy data will be made anonymous to the companies so they cannot identify who have provided the data.
FED has 24 partners. The project is funded by Innovation Fund Denmark.
https://www.flexibleenergydenmark.com/

Uni-lab.dk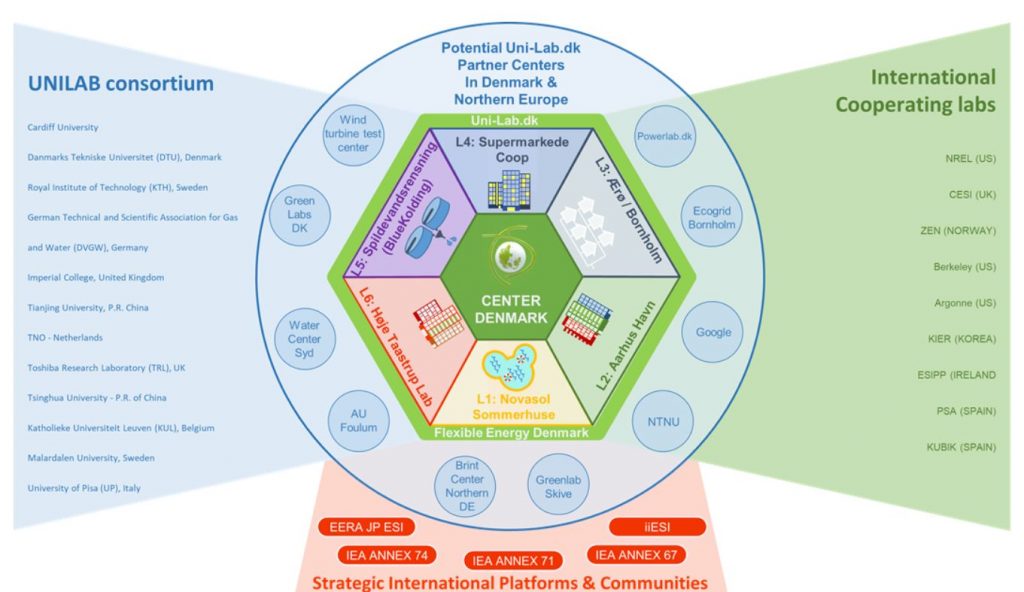 Uni-lab.dk is a gathering point for living labs and test labs working with sustainable technologies. Uni-lab.dk is built upon Center Denmark, a national hub for the digitization of the Danish energy systems and closely related to FED, Flexible Energy Denmark, a Danish digitization project with several living labs.
Climate change calls for a strong, joint action from research, industries and from the citizens. Uni-lab.dk wants to bring together all living labs and test labs in Denmark in order to enhance their cooperation among each other and with Danish industry.
Uni-lab.dk can help universities in Denmark find a suitable lab where they can develop their next sustainable solutions related to their particular research field. Uni-lab.dk can also help the Danish companies find the right partners for the development, test and demonstration of their next-generation products.
The ambition to develop scalable solutions requires tests in representative settings. Living Labs are real-life test environments where new technologies, products and services can be tested in representative contexts, as in normal residential areas and industrial areas etc.
Uni-Lab.dk provides access to a wide range of test labs and Living Labs in Denmark. Uni-lab.dk interacts with the international UNILAB consortium, international partners, and with strategic international platforms and communities, e.g. with initiatives from the International Energy Agency, IEA.
Web: https://www.uni-lab.dk/en/
HEATman / HEAT 4.0 – Digitally supported Smart District Heating
The objective of HEAT 4.0 is to develop an integrated flexible product platform, called HEATman, that enables District Heating (DH) companies to meet demands from customers and society in a cost-efficient way – these aim to improve environmental gains and increase the share of renewable energy sources, all of which are supported by an intelligent digitalization of the DH sector, and consequently enable the wide deployment in domestic market and the export to international market.
HEAT 4.0 transfers the state-of-the-art knowledge from the Strategic Research Centres 4DH, promoting low energy concepts, and CITIES, promoting smart cities and smart energy grid concepts. The existing results from them and other related projects are made into the products and enriched by additional applied research in DTU and AU. The aim hereof is to digitizing the DH sector through data intelligence, artificial intelligence and other cutting-edge technologies.
HEAT 4.0 combines a wide range of existing technical partner-solutions into a comprehensive and adaptable product platform – a cloud solution. HEATman is an integration platform that allows DH companies to adjust products from different providers to their own need. A major achievement is the ability to oversee the entire system and value chain.
Heat 4.0 is funded by Innovation Fund Denmark.
https://www.niras.dk/nyheder/naeste-generation-fjernvarme/

SCA – Smart Cities Accelerator


The Danish / Swedish EU-supported project Smart Cities Accelerator ended February 28, 2020. Smart Cities Accelerator was based on CITIES research and findings and has tested the methodologies for energy efficiency improvements and energy renovations, digitization potential in the district heating network, energy communities, and legislation etc. The project used Open Innovation Calls as a tool to get in contact with small startups with great ideas and solutions for complicated energy problems like power peak shavings.

In the period 2016-2020 four universities (DTU, Copenhagen University, Lund University, Malmö University), five municipalities (Copenhagen, Høje-Taastrup, Malmö, Lund, and Båstad) together with three energy companies (Høje Taastrup Fjernvarme & Kraftringen and E.ON both Sweden) have worked cross-disciplinarily.
SCA was funded by Interreg Öresund-Kattegat-Skagerrak
https://smartcitiesaccelerator.eu/

IDASC – Intelligent data use in district heating in smart cities
The IDASC project aims to collect and disseminate experiences about opportunities surrounding the self-learning systems in district heating. As part of the project, IDASC will test different models for using more real-time data in district heating, meaning senior executives, decision-makers and politicians involved in district heating can be given the best possible conditions for assessing its potential. This includes technical advantages and economic savings, as well as its CO2 reduction potential.
The self-learning district heating system can optimize temperature and flow control, enable peak load reduction, improve link between sustainable energy sources and district heating supply, create significant reduction in costs and CO2 emissions, and reduce maintenance costs, as the system is continuously and automatically adjusted.
https://www.gate21.dk/intelligent-data-anvendelse-i-smart-cities-idasc/


syn.ikia aims at achieving sustainable plus energy neighbourhoods with more than 100% energy savings, 90% renewable energy generation triggered, 100% GHG emission reduction, and 10% life cycle costs reduction, compared to nZEB levels. This will be achieved while ensuring high quality indoor environment and well-being.
Four real-life plus-energy demonstration cases tailored to the four different climatic zones and development projects of Europe will be developed and analysed within the syn.ikia project. The syn.ikia demo cases will demonstrate the functionality of the plus-energy neighbourhood concept for the rest of Europe.


The aim of the project is to increase the flexibility of energy networks, to test new business models and to support important stakeholders with tailor-made end-user interfaces. It will test a variety of solutions at four real demonstration sites located in Spain, Italy, France and Denmark. Additional laboratory testing will address safety issues.
Another special feature of ebalanceplus is its social and market orientation.

From the outset, the project will take into account people's needs and concerns in terms of innovation and smart grids. This increases the chances of the market adopting technology.
The project work plan covers a 4-year period and involves 15 partners from 10 countries. All project activities and results are divided into 9 work packages, dealing with research, analysis, evaluation and exploitation to achieve future replicability.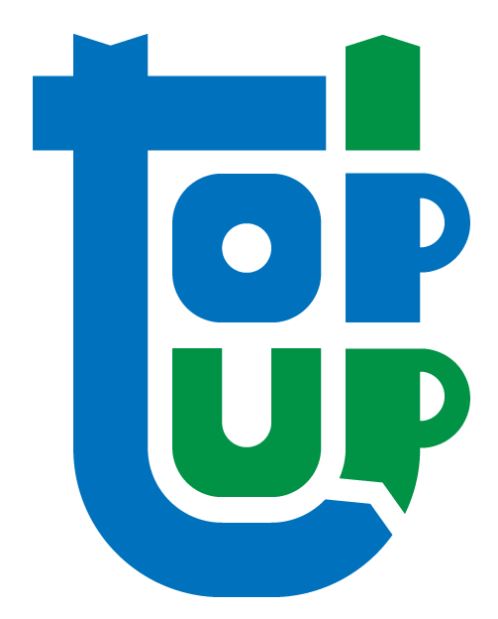 TOP-UP studies how TOP-down initiated heat networks can play a central role in integrated regional energy systems, and investigates how these top-down actions can empower bottom-UP participation among local actors and sectors, as to achieve the regions ambitious energy targets.
TOP-UP incorporates expertise in modelling, automation, social sciences and practice to optimize regional energy systems. It focuses on the integration of heat and electricity networks, and identifies and fosters optimal levels of local actor/sector participation. TOP-UP aims to satisfy actors/sectors needs and preferences, and to optimize regional energy system performance.
TOP-UP develops tailored solutions for the Groningen (NL) and Copenhagen (DK) energy systems – which prioritize changes to their heat networks due to unique regional challenges – and studies how these solutions can be scaled and customized to other regions, making best use of local renewables and reducing the dependency on fossil fuels.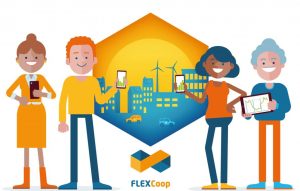 FLEXCoop aims at introducing a complete automated Demand Response framework and tool suite for residential electricity consumers.
The end-to-end interoperable solution will enable consumer flexibility to be valorised in front of a range of possible users in order to fulfil different services to the grid.
This framework will enable energy cooperatives to explore demand response business models and take the role of aggregators. The pilot participants are members of two energy cooperatives located in the Netherlands and in Spain.
FLEXCoop supports the democratisation of the energy system by enabling electricity consumers in households to actively support the energy transition and benefit from it through demand response.