A wide range of research activities have arisen to support the Danish target of a 100% renewable energy system by 2050. Projects focused on individual aspects of the energy system, such as zero emissions buildings or intelligent power systems provide valuable insight, but overlook the efficiency, cost and emissions savings possible with an integrated approach that facilitates flexibility throughout the energy system.
CITIES will address this deficiency by establishing an integrated research centre covering all aspects of the energy system, including gas, power, district heating/cooling and biomass, and most importantly methods to forecast, control and optimize their interactions through the use of advanced ICT solutions.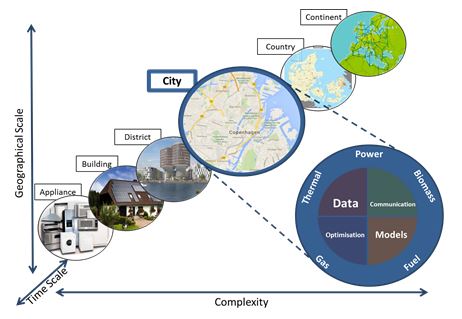 CITIES methodology plot
The high densities of population, energy consumption, and energy and communications networks in cities offer the greatest potential for flexibility at the last cost, and the fact that cities account for 80% of global energy consumption and emissions make the urban environment an ideal setting for energy systems integration research.
CITIES will pioneer research into fully integrated city energy systems, building short-term operational models that feed longer term planning models, considering the spatiotemporal variations, interactions, dynamics and stochastics in the energy system. Low level models of system components will inform higher-level aggregate models employed in market and control framework design. The leading position of European academia and industry and the rapidly growing market for smart energy solutions indicates substantial scope for increased competitiveness and job creation within this field.
CITIES will, in collaboration with its industrial and academic partners, conduct research with a view to developing tools for the implementation of integrated energy system solutions.
CITIES has 24 Danish and Swedish industrial partners as well as 15 international knowledge institutions from the EU, Asia, Australia and the USA. The project is supported by the Innovation Fund Denmark.